Cabins for endless possibilities
At Small Spaces we offer a number of portable room and trailered house designs as standard all providing unique possibilities when you need more space.
Our cost-effective rooms and trailered house are for those who need a simple, elegant space for a sleepout, office space, studio or trailered home. At Small Spaces we believe in creating stylish, affordable and usable spaces that fit a wide range of needs.
We have a range of designs to suit every situation and every budget.

Our rooms and trailered homes are fully customisable from window and door locations, linings and lighting and floor coverings.
Get in touch with us to talk about the space you want to create.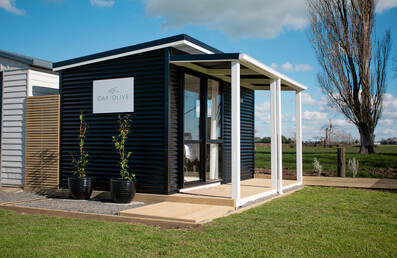 ORIGINAL CABIN
Our versatile and functional portable room. With endless possibilities you will be sure to find a use for it.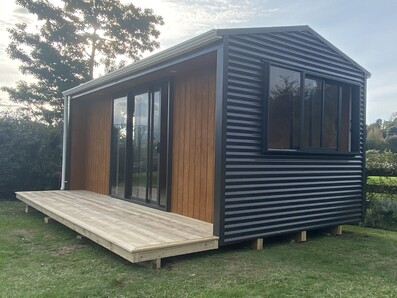 SMALL SPACES 6M
This is the smallest of our architectural cabin range. With its mixed cladding and large opening windows it makes for the perfect sleep out, home office or studio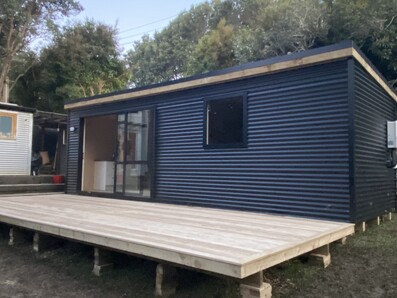 SMALL SPACES 8M
This is our mid sized architecturally designed cabin. With its mixed cladding and large stacking sliding door opening onto a covered portico it is perfect for a private hideaway.

DELIVERY
- Prices are Ex our yard in Ngahinapouri
- We deliver and set up our rooms all around the New Zealand
CONSTRUCTION
- Our rooms are all built from treated timber to last a lifetime
- The entire cabin is insulated (walls, floor and ceiling)
- The Small Spaces rooms come standard with two double power points, one internal and one external light (no external in the box cabin).
- All our rooms can be connected via a standard caravan plug and come complete with an electrical COC from a registered electrician
- We use quality corrugated cladding on both the roof and walls and can supply it in a range of colours.
Availability
Our rooms are built to order and we rarely have rooms around for long prior to delivery. We do however have a very reliable supply chain for materials.
Build time
As our rooms are all built to order and custom to the our customers needs.

If you want an exact build timeframe get in touch with us and we can discuss this with you.
BUILT TO LAST
Our rooms are built to last and suit a wide range of needs and our friendly team love working with clients to come up with a cabin that fits perfectly.

Can we custom design our room?
Yes you can! We pride ourselves on being able to offer solutions to fit everyones needs.
If you would like a custom designed room the get in touch with one of our friendly team members and they would be happy to help you out.
Are your rooms insulated?
YES! All our rooms come fully insulated and insulation can be installed to your specific requests...
Do I need a building consent?
The Building Act 2004, Schedule 1, Exemption 3, exempts detached buildings of less than 30m2 from the requirement for a building consent provided that some conditions are met.
The ministry for Business, Innovation and Employment have more details on this on their website or via the following guidance.
We suggest that you read the guidance and confirm that installing a cabin at your property will fall within the conditions of exemption 3.
What set up do I need to do prior to delivery?
There are a couple of things that you can do that will make the delivery go smoothly.
HEIGHT - We need a height of a minimum of 3m (4.5m for a mezzanine cabin) from the road to the point of delivery
WIDTH - We need a minimum width to deliver your cabin of 3m with extra for turning if possible, it is surprising how our experienced team are able to get your cabin in the correct space with minimal room
GROUND PREPARATION - The area that the cabin is to be installed should be flat and cleared of debris to assist our team in placing the cabin the the exact location you request, we can level the cabin up where required
How do I connect the power?
All the rooms at Small Spaces have an electrical COC (code of compliance) from a registered electrician.
They are installed with an outdoor caravan plug. This will connect via a lead to your existing power source.
If you have any questions about this don't hesitate to phone us us or flick us an email.
Do you offer rent to buy?
Unfortunately we do not offer rent to buy on the cabins. If you are looking to rent one we are able to put you in contact with someone who can help with rental.
We are able to help you with quotes and information to assist you to secure finance for your cabin.
Do you have finance?
YES we do! We offer finance through Squirrel. We are able to submit the application on your behalf.
If you need any more information about this check them out HERE